---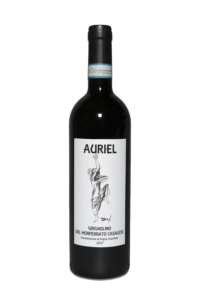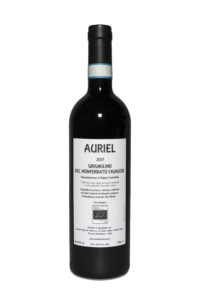 AURIEL GRIGNOLINO DEL MONFERRATO CASALESE DOC 2017
Vitigno: grignolino 100%.
Fermentazione naturale (lieviti indigeni).
Vinificazione e affinamento in acciaio.
Non filtrato.
Vino biologico/biodinamico.
Certificazione biologica: ICEA
Attestazione di qualità biodinamica:
I Vini biodinamici – Dr. Leonello Anello.
Gradazione alcolica: 13 % vol.
---
Colore granato, trasparente e brillante.
Di gentile trama tannica, in bocca è sapido, con buona persistenza aromatica.
Ottimale l'abbinamento con antipasti caldi, zuppe e bolliti,
carni e verdure in umido, pesce in salsa o fritto, sformati e gratin.
---
Grapes variety: grignolino 100%
Exposure: SOUTH; Soil: clay-limestone
Average yield per hectare: 40 quintals
Manual harvest
Natural fermentation (indigenous yeasts)
Separation from sediments only by decanting
Vinification in stainless steel tanks.
Rest before bottling: 9 months. Not filtered.
Alcohol % vol.: 13 % vol. SO2 total: ≤ 50 mg/lt
Organic certification: ICEA
Biodynamic quality attestation:
I Vini biodinamici – Dr. L. Anello
Garnet color, transparent and bright.
Spicy bouquet and gentle tannic texture.
Optimal pairing with hot appetizers, soups, stewed meats and vegetables,
fish in sauce or fried, pies and gratins.